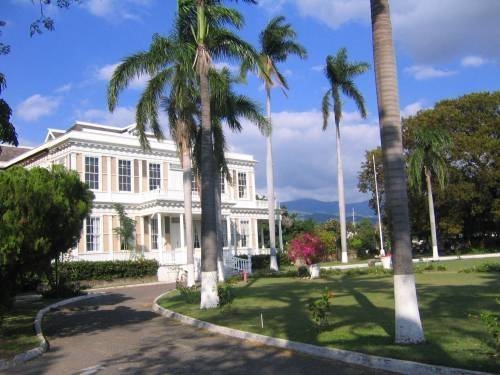 One of the most breath taking architechtural scultuptures is "Devon House." It is located in Kingston, Jamaica. It was built by George Steibel in the late 1800's.
George purchased Devon Penn and began to build his dream house, to be called Devon House, for his wife, daughter and son-in-law. The builder was the half-Lebanese, half-Haitian, Charles P. Lazarus. The land included wells, a fountain, a racetrack, tennis courts, and a 10 ft by 10 ft concrete swimming pool. Bricks and a cast iron gate were brought in from Scotland
The house included a library, a gaming room, ballroom, sitting rooms, a sewing room, dining room, bedrooms, a balcony that looked across to Trafalgar Penn and verandahs on different floors. The kitchen was located in the back (where the Brick Oven now is) because it was thought dangerous to put a kitchen near to the wooden main house. The Steibels did a great deal of entertaining
especially after George became Custos of St. Andrew in the mid-1880s. They therefore employed a large staff including four gardeners, two house maids, a butler, cook, laundress, grooms and a coachman. Servants' quarters were located in the space now occupied by shops adjacent to the present day Brick Oven. Although much of the furniture and carpets today are not part of Steibel's original décor (having been sold at public auction following the death of Theresa Steibel Jackson) the original chandelier, like the cherub and floral ceiling decorations, remains


n 1928, another Jamaican of Jewish descent, Cecil Lindo, bought Devon House from the Melhados and lived there with his second wife Agnes until his death of a heart attack in 1960 at the age of 89. Cecil's money came from wise initial investments in banana in Costa Rica and then investments in Jamaica, which included the purchase of the liquor firm of J. Wray and Nephew and Moneymusk Estates along with his brothers. Cecil was also a railway magnate and the owner of Appleton Estate and the wine and spirit business of Daniel Finzi and Co. Ltd. among other holdings. Like Steibel, Cecil Lindo was a generous benefactor of many Jamaican charities and he and his wife enjoyed entertaining and often gave fancy dinner parties. He left Devon House to his wife, who, in turn, went to live in New York following her husband's passing. It was she who was approached by developers to sell Devon House in 1965.


TodayTours of Devon House are currently available 9:30 to 4:00, Monday to Saturday: $100 children and $200 for adults. $20 per student for school groups and $50 per teacher. If you ever have the chance of viewing this magnificient work of art..take it!