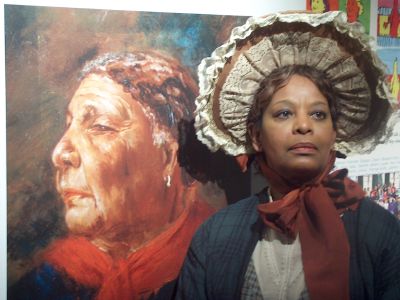 Mary Seacole is the Florence Nightingale of Jamaica.
Seacole is best known for her work treating
Britain's wounded during the Crimean War in the mid-1850s. Born Mary Grant in Jamaica in 1805, the daughter of a free black woman and a Scottish soldier, Seacole was primarily self-taught. Much of her childhood was spent helping her mother in her Kingston boarding house located close to where the National Library now stands on East St. A well-known doctress, Mary's mother often treated soldiers stationed close by at Up Park Camp and Newcastle. In her 1857 autobiography, Seacole recalls watching her mother closely and practising medical techniques on her doll. Whatever disease was prominent in Kingston at any time, young Mary's doll was sure to have it.

Mary met and married Edward Horatio Seacole, godson of naval hero Horatio Lord Nelson. The couple moved to Black River where they opened a store. Unlike Mary, however, Mr. Seacole had a weak constitution and Mary spent a great deal of time trying to nurse him into good health. Although she managed to keep him alive longer than many doctors felt possible, eventually Mr. Seacole succumbed leaving Mary became a widow at a very young age. She would never remarry.


Mary created what she called her 'hotel for invalids' in the winter of 1855, close to the Balaclava front. (Balaclava is a town in the Ukraine and it may be the inspiration for the Jamaican town of the same name). She called it The British Hotel and spent the next year dispensing medicine, meals, and entertainment. She divided her time between the hotel and the battlefront. She could often be seen helping doctors transport the wounded to hospital and visited with soldiers at their campsites. She quickly became known as Mother Seacole. When her savings ran out, Mary began selling medicine and meals to soldiers but she could never deny any in need who were unable to pay. Since few of her clients' were rich, in the end, this effort, although a tremendous humanitarian success, was a financial disaster.

If you want to read more about this wonderful pioneer in the health care profession for Jamaica, you can go to http://www.jamaica-gleaner.com/pages/history/story0023.html