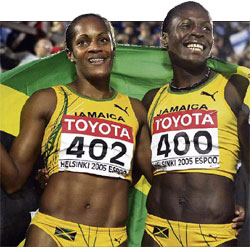 With the world in a economic decline, I am wondering if Sports would be an avenue that Jamaica can use to their advantage. Carole Beckford wrote and article in the Jamaican Gleaner suggesting this.

These are some of the key points she used to support her argument.


Foreign-exchange income for the country
International media attention
Temporary jobs for residents
Opportunities for other residents to volunteer.
Over the next five years, World Track and Field championship is in Berlin (August 2009), World Cup Football, South Africa (July 2010) and Summer Olympic Games, London, (2012) are just some of the major events to take place; but there will be need for preparation tournaments and championships prior to these events.

Can the Jamaica Tourist Board work closer with the sporting federations to create our own sporting festival and throw their weight behind this venture? This was a question she posed in her article. I think that the JTB would do well to consider this venture. I know for a fact that this would bring global exposure to Jamaica and a major boost economically. We saw the attention that BOLT and COMPANY achieved last year at the Olympics.