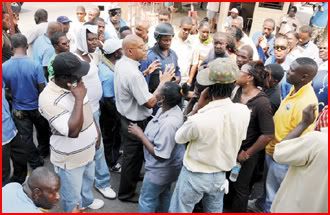 Well, the Mini bus and Taxi Operators not too happy right about now. It seems they are very upset about the license fee increase. I don't know, growing up in Jamaica in the early 70's, you couldn't get around without the help of the taxi man or grab hold of a mini van. (come to think of it the same thing at Utica Ave in Broolyn).
Back then Jolly Bus not too reliable, and you would reach school quicker with the van man. The
Observer
reported today that the transport operators, who service routes in Seaview Gardens, Waterhouse and some sections of Portmore, said they were not prepared to pay the increased fees, and called for a meeting with the transport minister, Mike Henry, to discuss the matter.