Well, lots of complaints concerning the time it took in between sets at the Smile Jamaica/Africa Unite concert this past Friday. The event held at the James Bond Beach had a spectacular array of artist. Some of which included the most anticipated reunion of the Marley Brothers, (Stephen, Ziggy, Damian, kyMani, and Julian). Some say they were actually the best part of the show. If you stayed until 4:30 am you might even have seen them. By the time they got on the stage many people had started leaving but this did not take away an amazing performance.
Personally I just wanted to see Damian. I love my "Jamrock" man.
John Legend was reported to tear it up as well. He always gives a sizzling performance. He even was able to serenade a young lady he brought on stage.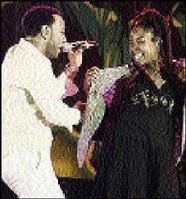 I did hear my girl
Rihanna
tore up. "Is this Love" by Bob Marley.
Rihanna
(a recent Grammy recipient) also performed her smash hit, "umbrella." She is one sexy Caribbean
sistah
. I also heard though that her dress was so tight her breasts almost come out and hit the audience
It appears Coco Tea and Queen
Ifrica
made it to the event but did not make it to the stage. Events like this really need more planning to make things run more smoothly.
Sizzla
and
Capelton
tried to revive the crowd with some extended performances, but it seemed like the long wait in between left people just wanting to leave.
Naturally, some of those billed to perform did not make it at an event which, in the last stages, seemed to be teetering on the brink of chaos, Cocoa Tea and Queen
Ifrica
among those showing up at the venue but not getting to the stage.
With the recent problems with the Air Jamaica Jazz and Blues Festival, I wonder how many artist are going to be attending these events. It is not only hard on the crowd but I can imagine that most artist don't want to go on stage to a hostile crowd.
The cost of $1,500 Jamaican was a lot of money not for things to go smoothly. The sponsors Television Jamaica, Jamaica Tourist Board, The Gleaner, Irie FM, and Telecom had no offical comment regarding the show and some of the complaints
I still wish I was there though. Oh, well maybe next year.