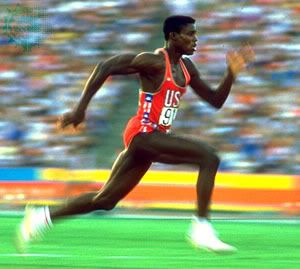 Boy I tell you jealousy is a bad ting mon! Carl Lewis is a track and field athlete whose credits to the sport speak for itself. He has won 10 Olympic medals including 9 golds, and 10 World Championships medals, of which 8 were golds, in a career that spanned from 1979 when he first achieved a world ranking to 1996 when he last won an Olympic title and subsequently retired. Lewis, who currently lives in Los Angeles, is now an actor and has a role in the upcoming, 2010 jewel heist movie '62 pickup starring comedian Eddie Griffin.

With all that being said, why is Carl Lewis questioning the authenticity of the power of Usain Bolt? In a recent interview with Sports Illustrated he was asked what he thought about the accomplishments of Usain Bolt.

"Countries like Jamaica do not have a random program, so they can go months without being tested," he fumed.

I think he forgot 2003 he failed several drug test that questioned the validity of his achievements. Sometimes folks think what you are doing is what they are doing. I challenge Mr. Lewis to come to Jamaica and see the accomplishments that many of the athletes all over Jamaica are doing. Jamaican children start running sometimes before they walk. I challenge him to walk the Hills and Roads of Trelawny. (or anywhere in the country for that matter).

The Jamaican diet is rich in starches, where it took, Michael Phelps all that food to build up the Carbs in his body, Bolt only had to eat a dinner of Yam, Coco, and some Fish to get the same results.
Dr Herb Elliott, Jamaica's team doctor who is a member of the IAAF anti-doping commission and a man whose integrity has never been questioned, is on record as saying that he tested Mr Bolt 15 times between last November and December.

Jamaica is ranked fifth of the 15 countries most tested in the IAAF's out-of-competition program last year. Carl, give it up. You had your time, (with question I might add again). Let Jamaica have their time.