Alton Ellis was born in 1938 and grew up in Kingston's Trench Town district. Born into a musical family, he learned to play piano at a young age.[6] He initially sought fame as a dancer, competing on Vere Johns' Opportunity Hour.[7] After winning a couple of competitions, he switched to singing, starting his career in 1959 as part of the duo Alton & Eddy with Eddy Perkins.[8] Ellis and Perkins recorded for Coxsone Dodd at Studio One, initially in the R&B style, having a massive hit with "Muriel" (from Dodd's first commercially-oriented recording session at Federal studios),[9], recording a follow-up, "My Heaven", before Perkins moved to the United States.[8] Ellis continued to work for Dodd and also recorded for his arch-rival, Duke Reid on his Treasure Isle label.[8] By the mid 1960s, ska was moving on and the beat was slowing down to rocksteady and becoming associated with the violent rude boy subculture in Jamaican dancehalls.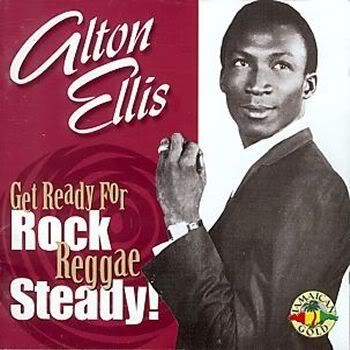 His Many successes over the years included:


Mr Soul of Jamaica (1967) Treasure Isle
Sings Rock and Soul (1967) Studio One
The Best Of (1969) Coxsone
Sunday Coming (1970) Coxsone
Greatest Hits (1973) Count Shelly also released as Cry Tough
Still in Love (1977) Horse
A Love to Share (1979) Third World
Showcase (1984) Studio One
Slummin' (198?) Abraham
Mr Ska Bean'a (1981) Cha Cha (Alton Ellis & The Heptones)
A New Day (1983) Body Music
Daydreaming (1983) Silver Camel
25th Silver Jubilee (1984) Sky Note
Continuation (1985) All Tone
Jubilee Volume 2 (1985) Sky Note
Change My Mind (2000) Orchard
More Alton Ellis (2001) T.P.
Live with Aspo: Workin' on a Groovy Thing (2001) Belleville International / Patate Records
With Hortense Ellis
Alton & Hortense Ellis at Studio 1 (1990) Heartbeat
Compilations
All My Tears (1965-68) (2006) Brook
Alton Ellis Sings, Heptones Harmonise Jet Star (Alton Ellis & The Heptones - 1978-80)
Arise Black Man (1968-78) Moll Selekta
Be True to Yourself (196X-7X) (2004) Trojan
Get Ready for Rock Reggae Steady (1967-74) (1999) Jamaican Gold
Many Moods of Alton Ellis (1978-80) (1980) Tele-Tech
My Time Is the Right Time (1966-71) (2000) Westside
Reggae Valley of Decision (197X) (1996) House of Reggae
Soul Groover (1997) Trojan
Reggae Max (1997) Jet Star
The Duke Reid Collection (1999) Rhino
Soul of Jamaica (2001) Bianco
It Hurts Me So (2006) Essential Gold
Reggae Chronicles (2006) Hallmark
Muriel (2007) All Tone
In December 2007, he was admitted to hospital in London for treatment of cancer of the lymphchemotherapy. glands, but he returned to live performance after receiving
He was the older brother of the late Hortense Ellis, and the father of more than twenty children including Noel Ellis and Christopher Ellis, who are both reggae singers.
Ellis died on 10 October 2008 at Hammersmith Hospital, West London, of cancer.

He will be missed.

Source: Wikipedia