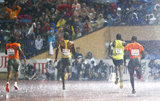 Image Source:
PHOTO: REUTERS



Usain Bolt the road to win the worldchampionship in Berlin in August. This past Tuesday Bolt ran a mind boggling 19.59 seconds in
LAUSANNE, SWITZERLAND. He did this in torrential rains and extremely cold temperatures.


At one point the temperature was 15 degrees Celsius. "I'm in good shape, but I'm not fully ready yet," said the 22-year-old Jamaican, who was aiming to peak for the world championships next month in Berlin.
Story Source:
Taipei Times