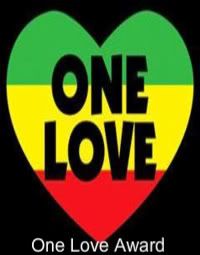 This award is meant to encourage and uplift others who seek to promote their true love of Jamaica in the blogging world. People who use their blog to share what Jamaica is all about.
Please select 1 blog that you feel is an exceptional example of this award, next select 4 blogs then Pay it Forward to by sending this award to them. They have to pay it forward selecting one exceptional blog choice an 4 additional people of their choice. Link back so we can see who has gotten this award
Recent recipients of the Onelove Award
Jamaica My Way gave it to
http://empressdoms.blogspot.com/
and her 4 honorable mentions were
*
Jamaica Photo Diary
*
Things Jamaicans Love
*
YardEdge
*
JamaicanPrincess
Please check then out an show them some love.
(out of many ONE people..) forward